Gründen 2.0
Successful business incubation with new Internet tools
---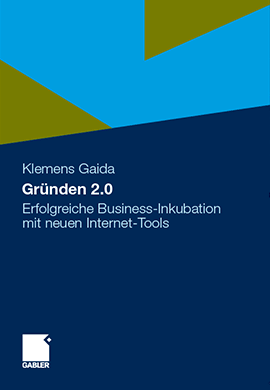 Private founders want to realize themselves, Companies need to reinvent themselves, Universities need research transfer. For everyone it is about "incubating", incubating new business ideas and founding a new company or business unit. Thanks to the Internet, the individual steps of the incubation process can be supported with new web-based tools or even realized in new ways – that is Gründen 2.0.
What are incubators and how do they support business start-ups? Which new Internet tools can be used specifically in this process? Gründen 2.0 offers a comprehensive collection and discussion of new tools for the entire incubation process: from idea generation to product launch. With many examples from the history of business and innovation, Gründen 2.0 is a toolbox, entertaining reading and valuable stimulus for young start-up teams, for business developers in corporations, for research teams at universities and for every idea maniac.

Content
Incubator types and change of incubation management in the internet age
Internet tools for brainstorming: Mindmapping, trend scouting, crowdsourcing
Web-based potential analysis: online research, feasibility, business planning
Pilot development tools: crowdfunding, team building, prototyping, co-creation
Web-based company building: online project management & online collaboration
Product launch: social media marketing, online product tests & recommendations
The author
Klemens Gaida holds a degree in engineering and a doctorate from the Technical University of Dresden. After working as a partner in a consulting firm and as a manager in a mobile communications company, he founded the Internet incubator 1stMOVER in Düsseldorf. He has successfully tried out many of the new Internet tools himself.
Produktinfo
| | |
| --- | --- |
| Title: | Gründen 2.0 |
| Author: | Klemens Gaida |
| Softcover: | 240 Seiten |
| Price: | EUR 39,95 |
| Publisher: | Gabler |
| Edition: | 1 (Juli 2011) |
| Language: | German |
| ISBN-10: | 383493061X |
| ISBN-13: | 978-3834930613 |
---