On our own behalf
digihub wins tender for the Scale-up.NRW program
NRW is to be one of the top 10 startup regions in Europe by 2025. To achieve this goal, the NRW Ministry of Economic Affairs and Digital published a Europe-wide call for proposals for a scale-up funding program in February 2021. We are very pleased because: our 1stMOVER managing directors Klemens Gaida and Peter Hornik have won the tender with digihub!
Scale-ups are more mature startups. They are already in the market, have paying customers, and their team is growing. They have their first VC financing in their pocket and are about to go international. Overall, their focus is on scaling.
An analysis "The Rhineland Ecosystem: Vision 2025" commissioned by the Ministry of Economics and Digital North Rhine-Westphalia from "Startup Genome" 2020 showed that NRW urgently needs to catch up in terms of scale-ups. Therefore, in February 2021, the ministry published a Europe-wide call for proposals for a scale-up funding program in NRW. This program is to support 10 to 20 of the best scale-ups from NRW each year.
Digital Innovation Hub Düsseldorf/Rhineland - Experienced Matchmaker and Accelerator
Our 1stMOVER managing directors Klemens Gaida and Peter Hornik have applied with the Digital Innovation Hub Düsseldorf / Rheinland - digihub for short - for the implementation of the Scale-up.NRW program. Both have been managing digihub since 2016 in addition to their work at 1stMOVER. The innovation hub is funded by the state of NRW, the city of Düsseldorf and other shareholders, as well as supported by many companies, chambers of commerce and business development agencies from the Rhineland. The digihub is now a successful open innovation center and works as an ecosystem matchmaker between different market players. As an accelerator, the hub promotes startups and spinoffs from companies and universities. With its Ignition accelerator program, digihub has to date supported more than 60 freshly formed startup teams from idea validation to rapid prototyping and market entry with 1.5 million euros. Together with 40 other accelerators and incubators, all of which are gathered in the portal www.accelerate.nrw, the digihub has spawned many new startups in NRW over the past five years. Today, there are more than 2000 startups in NRW. The current challenge is to turn quantity into quality, i.e., to turn the many young startups into as many successful and large companies as possible - in the best case, to produce new "unicorns.
What does a scale-up support program need to deliver? digihub conducts survey
For the application, a large survey was conducted with 30 mature startups in the Rhineland. The purpose of the survey "Digital Scale-ups in the Rhineland" was to learn exactly what the challenges, needs, and requirements are for a scale-up funding program.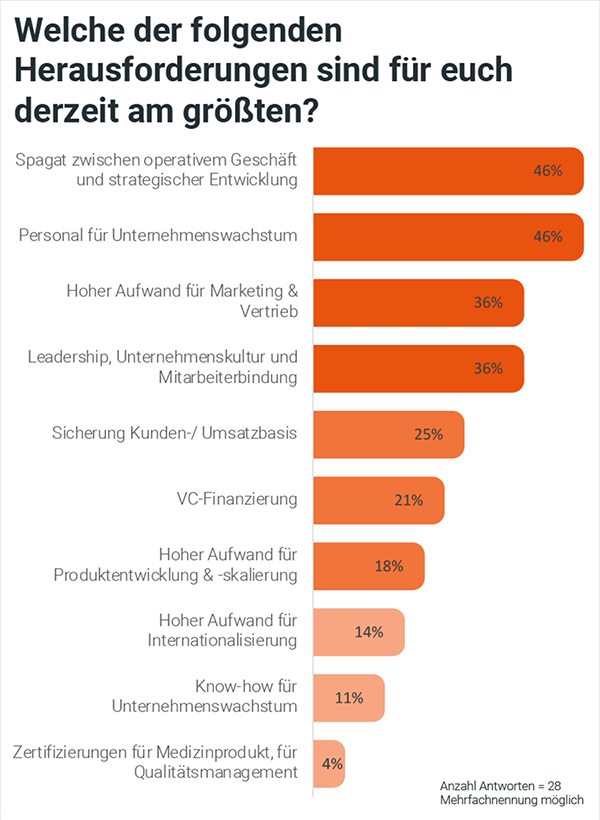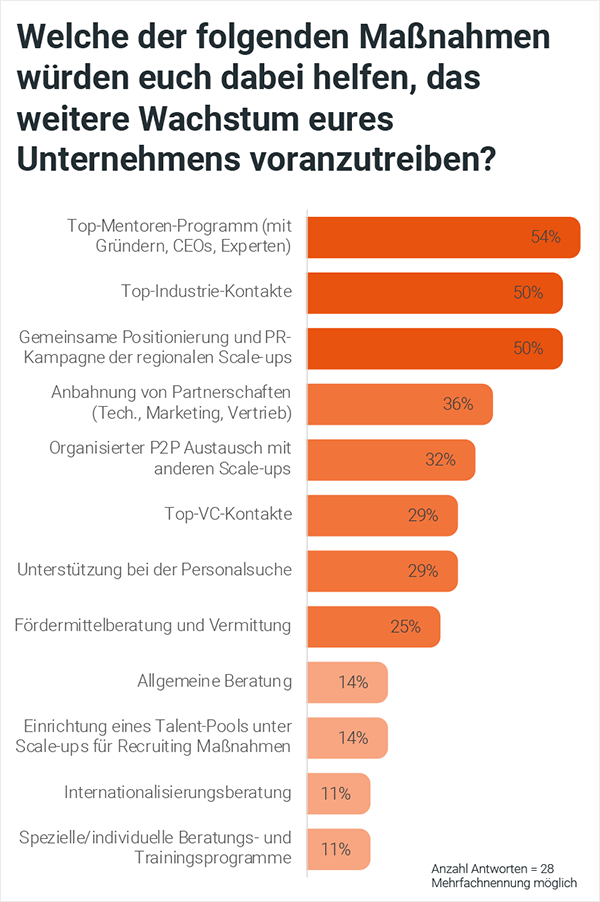 We are the winner: The digihub application convinces
After several weeks of comprehensive concept development and partner identification for the application for the Scale-up.NRW program, Klemens Gaida and Peter Hornik with digihub and consortium partner German Entrepreneurship prevailed against strong competition.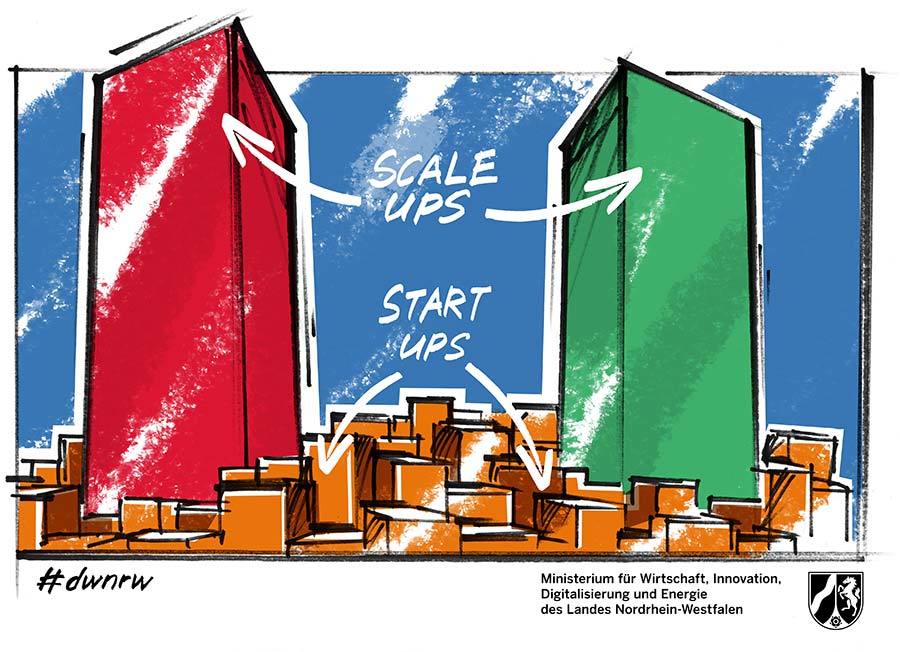 Now the setup phase begins for the various, closely interlinked modules of the program, which can be used individually by the startups for their further scaling:
Top mentoring for strategy consulting, expert coaching and as a "door opener" to industry and investors
Seminars and workshops on the startups' specific scaling challenges
P2P learning formats for exchange and networking among the startups
On-site support for the internationalization of scale-ups in other countries
International VC activation for further growth financing
The first batch of the ten to 20 best scale-ups from NRW will start in spring 2022. After that, there will be further batches at annual intervals. In two to three years, the first unicorn candidates should emerge from the group of participants.
On October 11, a press conference with NRW Economics Minister Pinkwart was held to officially launch the Scale-up.NRW program.
The program implementation of Scale-up.NRW is a great honor and responsibility for Klemens Gaida and Peter Hornik, both are very happy about the trust placed in them. In particular, in addition to startup support, they look forward to working with many partners in the startup scene in NRW, Germany and worldwide.
---
Update summer 2022: In the meantime, the program marketing and implementation of Scale-up.NRW (www.scale-up.nrw) have been successfully launched and the first 13 particularly high-growth startups from NRW are on their individual scaling paths into new, international markets and towards the next round of financing for their further growth.

---