Professional article
Mastering market upheavals with Open Innovation Hubs
Understanding and managing ecosystems and startup collaborations can make exponential innovation manageable.
Big Data /KI, Internet of Things, Blockchain, Virtual/Augmented Reality, Digital Twins, Robotics - these are just a few examples of current tech trends that have been turning markets and business areas upside down for a few years now. Tech innovations are converging on integrated hardware and software platforms; combined, they are leading to exponential change. In the long term, they are changing our world completely and sustainably.

This "exponential innovation" is a challenge for all market players. In order to best meet this as a company, municipality or state, we at 1stMOVER focus on understanding and managing ecosystems and startup collaborations. Because only together, when all actors bring together their specific innovation approaches and competencies, the best solutions to the challenges of tomorrow's market upheavals will emerge.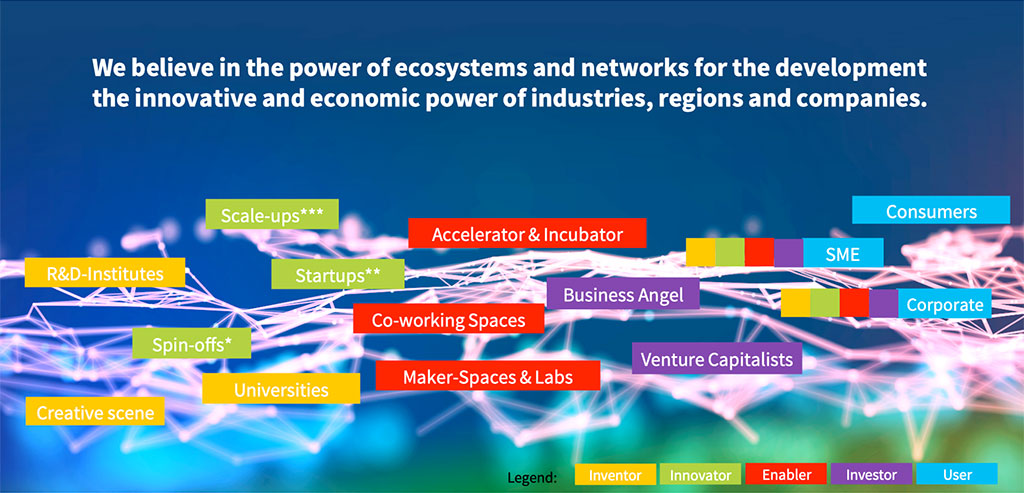 The special importance of startups for innovations
When it comes to forward-looking developments, startups have a special significance. They are often the innovation driver for the upheaval or even the creation of new markets:
Startups bring "fresh minds" into the ecosystem. They bring in new ideas, think the supposedly impossible.
The young entrepreneurs see a problem as an incentive to develop many approaches and attempts at solutions over a longer period of time. In the process, many teams usually search for solutions efficiently and persistently at the same time.
They contribute to the commercialization of research and development from universities, research facilities, institutes and companies.
Startups put companies under pressure to innovate; they offer open innovation.
Startups attract investments into markets.
Startups connect markets, especially via digital platforms.
The promotion of startups and an environment in which new companies can thrive are prerequisites for innovation. Established companies should not see startups as potential competition, but as an opportunity. After all, cooperation creates potential for new, forward-looking business fields. The open innovation principle helps companies to attract suitable startups.
What is Open Innovation?
Our passion is Open Innovation, which means: companies, industries and regions open up their innovation process so that the outside world can use it. The diverse involvement of very different outsiders increases the innovation potential.
Open innovation can be divided into three core processes according to Gassman and Enkel¹:
The outside-in process is the integration of external knowledge into the innovation process. The know-how of suppliers, customers and external partners (e.g. universities, R&D institutions, startups) is to be used to increase the quality and speed of the innovation process.
The inside-out process is the externalization of internal knowledge. Companies use this process, for example, to collect royalties on patents or innovations that they do not use for operational business. A non-monetary approach can be used to present oneself as a "giver" in order to be able to be a "taker" in return.
The coupled process is a hybrid of the outside-in process and the inside-out process. Creating standards and building markets are the focus of the Coupled process.
Open innovation can mean, for example, involving customers in the development process via crowdsourcing, but also giving innovations to the outside world via spin-offs or even supporting an entire ecosystem via an open innovation center ("hub").
¹ O. Gassmann, E. Enkel: Open Innovation. Die Öffnung des Innovationsprozesses erhöht das Innovationspotential
Advantages of Open Innovation for companies
Following Reichwald, Piller and Ihl², the open innovation approach offers market players the possibility of a change of perspective on the product, as well as a reduction in costs and time, adaptation to the market and a new start:
Better time-to-market: The development and provision of new products or services through innovation ideas is accelerated. Through the Open Innovation network, user priorities for process, product or service are incorporated as accurately as possible.
Better cost-to-market: The costs for in-house research and development are reduced by integrating external R&D results up to the use of open source. Marketing costs are also reduced by presenting new products or services in the open innovation network.
Better fit-to-market: The market acceptance of the users and buyers of a product or service is increased because as much needs information as possible is used from the open innovation network.
Better new-to-market: New business areas are identified and developed more quickly because innovation ideas for new products or services and trend information on new customer needs and new market sectors come from the open innovation network.
In addition, open innovation offers further advantages:
Better early warning system: Companies receive innovation signals from the open innovation network earlier, which indicate disruption potential for their own industry and company. In this way, the company can prepare for the business risks associated with disruption at an early stage.
Better resilience management: Thanks to the Open Innovation network, companies register signals at an early stage that indicate technologically or entrepreneurially clever reactions to unexpected environmental or market developments (e.g. Corona crisis, supply chain disruptions). This enables the company to plan its own skillful handling of changing market conditions in the best possible way.
The goal of open innovation is to drive new developments by combining internal and external competencies. The resulting products and business areas are usually more successful, sustainable and cost-efficient than those from classic product development. Ecosystems are decisive for the challenge of exponential innovation. Open innovation centers ("hubs") can be at the core of such ecosystems.
² R. Reichwald, F. Piller, C. Ihl: Interaktive Wertschöpfung: Open Innovation, Individualisierung und neue Formen der Arbeitsteilung
Open Innovation Hub: Innovation center instead of corporate department
An open innovation center ("hub") acts differently than a company's department: It is a neutral contact point for all players in an industry or technology sector with an interest in open innovation. All players can internalize external knowledge or externalize internal knowledge there, find suitable cooperation partners for their own innovation projects or become a cooperation partner themselves for the initiatives of other market players.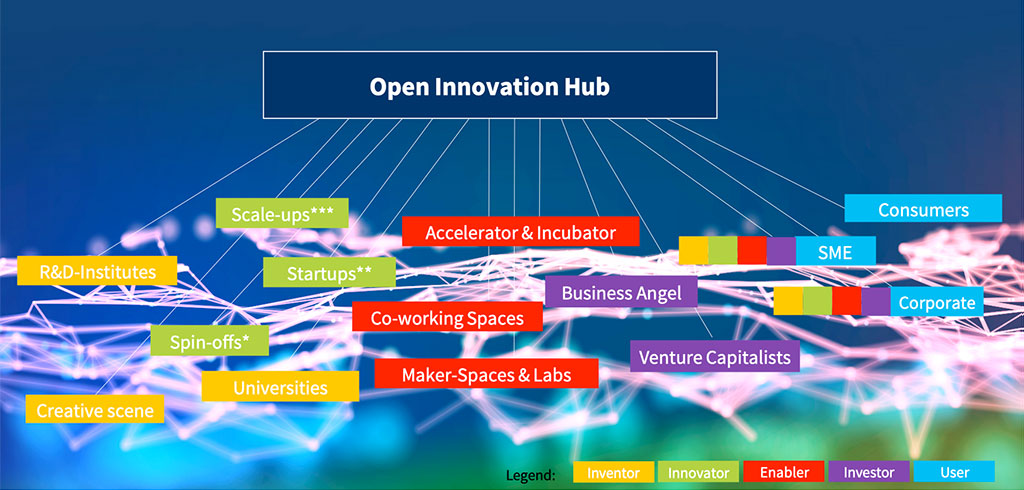 Due to its neutral position, the Open Innovation Hub can interact with all actors of an industry or technology sector ("target market of the Hub"). It brings them together, forces the exchange of ideas and knowledge, and supports the initiation of new innovation or startup projects.
In this way, the hub acts as a promoter of the innovative and economic power of an existing or even a completely new industry or technology sector that is still in the market ramp-up phase. It also promotes the economic region in which the hub location is located, for example through events, congresses, trade fairs, funding projects, by attracting new startups and by strengthening local companies.
The basic functions of an Open Innovation Hub are:
Service desk as a contact and coordination point for all market players interested in open innovation
Matchmaker between market players for cooperation initiation, 1:1 in day-to-day business and via special event formats such as speed dating
Accelerator of innovation projects with professional support for idea validation, prototyping, market launch and scaling of startups and spinoffs from universities, research institutions and companies
Think tank for the identification and analysis of new tech, solution and market trends and for the uptake of these trends by the actors of the open innovation network
Collaborative project partner for other hub-like institutions (e.g. for joint events, databases, funding programs, etc.)
A hub that fulfills all these functions is an indispensable part of a well-functioning startup ecosystem. It becomes the epitome of a high-performance innovation landscape.

Why you as a company should become a hub initiator
In its target market (industry or technology sector), the hub unfolds a series of strategic, operational and image-enhancing benefits for the players in its open innovation network, with tangible, even monetary, added value. This is particularly true for the initiator of an Open Innovation Hub.
The strategic and operational advantages for the hub initiator and the partners are:
Strengthening the hub's own market position: A new, internationally oriented hub provides a strong impetus in the hub's target market. The resulting market activation also ensures a strengthening of the hub partners themselves as central market players in the hub's target market. This is especially true for the hub initiator.
Strengthening the core business: The hub's focus is both international and regional. As a result, the hub partners, and in particular the hub initiator, become firmly anchored in the international startup scene and receive first-hand information on new startup and innovation trends in the core business and on the minds and technologies behind them.
Creating new business opportunities: One focus of the Hub is on connecting the target market with the topics of digitalization and high-tech, which can result in new disruptive business approaches that change or even create entire markets. Here, too, the hub partners and especially the hub initiator have the first access to trends and talent from the startup world.
Strengthening the brand and innovation image for partnering and recruiting: the commitment is perceived positively by the public, by (potential) business partners as well as by (potential) employees. The hub partner makes an important contribution to advancing key socio-political and economic goals.
Strong presence in the startup ecosystem: At all innovation formats, expert events and lighthouse events, the hub partners and especially the hub initiator are given the opportunity to showcase themselves as innovation partners on stages with presentations, in panel discussions, in jury sessions and in workshops and to promote collaborations.
Network building with other companies, universities and investors: The Hub enables the Hub partners and especially the Hub initiator not only to build direct relationships with startups, but also with all players in the Hub's open innovation network. This results in best practice sharing as well as new business and cooperation initiations.
Seat on the advisory board for hub action planning and design: The hub initiator and the hub partners can contribute their interests and co-determine the hub's innovation program via an advisory board.
No more need for own, sole innovation development measures: The company participates in corresponding hub activities such as matchmaking events and startup development. In this way, it saves costs, receives more innovation impetus, achieves a higher impact through multipliers in the hub network, and increases its success through collaborations with well-known partners.
Today, innovation is only possible in cooperation with various players. If a company seals itself off from the outside world, it will be left behind sooner or later. An open innovation hub puts the hub initiator in the unique position of actively shaping and driving an innovation ecosystem. Companies should take advantage of this opportunity.
At 1stMOVER, we specialize in the development and establishment of Open Innovation Hubs. The hubs we initiated, such as the Digital Innovation Hub Düsseldorf/Rheinland or the International Hydrogen Hub in Essen, are currently shaping entire ecosystems.
Would you like to learn more about Open Innovation Hubs and the work of 1stMOVER? Contact us! Together we determine your possibilities and opportunities as a hub initiator.
---