Professional article
The rise of the startup accelerator: How global players are building a worldwide accelerator industry
What do Dropbox, Airbnb and reddit have in common? All three are extremely successful digital companies with company valuations in the billions. And: They were all spawned by the US Y-Combinator - the mother of all startup accelerators. What makes the big US accelerators so successful? And what is the situation in Germany and NRW?
The Y-Combinator in Silicon Valley has been around since 2005. Since then, he has built numerous startups into global companies and has become a global player himself. In addition, other accelerator programs are among THE addresses for startups and VCs worldwide, for example Techstars, Plug and Play, 500 Startups and Startup Bootcamp.
They all support founders with the "5 Cs": co-working, community, coaching, contacts and capital. They also share the basic principles of a startup accelerator: They are aimed at young, still small teams ("pre-seed"), their application process is open, the program is time-limited, and the startups go through the program in classes, so-called "batches". The goal of an accelerator is to get the young companies to the point where they can enter the market and receive their first VC funding.
Over the years, accelerators have become a central building block in startup ecosystems. Their USP: They are a "one-stop store" - here, startups get everything they need.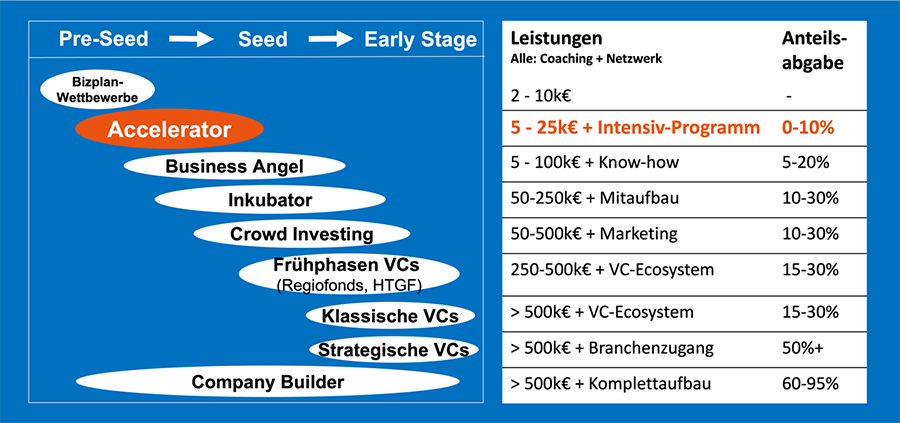 Accelerator programs worldwide, in Germany and in NRW
In 2009, the rise of accelerators began in the U.S.; around 2016, a saturation point can be observed internationally - at that time, only the first programs emerged in Germany. Europe has now overtaken North America in the number of startup funding programs, but the size, professionalism and investment budgets are still far below those of the major global accelerators.
In addition to the big players, there are countless small and only locally known accelerators. Worldwide, there are currently more than 700 startup funding programs with a total budget of several 100 million euros and thousands of startups kicked off. They differ primarily in their sponsorship. There are private accelerators from independent brands such as Y-Combinator & Co. and from companies ("corporate accelerators") as well as public funding programs from economic development agencies, universities and research institutes. One thing that stands out here: The really big accelerator flagships are all in private, independent hands.
There are around 150 accelerator programs in Germany, of which around 30 are located in NRW. Most of them are part of a regional startup ecosystem or are located at sites of large universities.
Some companies in Germany also operate corporate accelerators. These are almost always thematically oriented in line with the company's market approach, e.g. to the energy or financial sectors. The best-known programs include Axel Springer Plug & Play resp. APX from Axel Springer and Porsche, DB mindbox as well as Merck Accelerator.
In our article "Opportunities and Challenges of Corporate Accelerator - How to Make Your Own Startup Program a Success" we go into detail on how your company can build and operate a profitable corporate accelerator.
Global brands build a global accelerator industry
Today, the major accelerators are by no means regionally limited. They have become global players, shaping startup ecosystems worldwide. In recent years, they have thus built a global accelerator industry in which programs vie for the most promising startups from around the world. In doing so, they pursue different strategies to grow globally.
Y-Combinator, for example, relies on virtualization of its offering: the "Startup School" takes place exclusively online. More than 14,000 startups are in a batch and learn regardless of location. Only two batches a year go through the program on site; the startups relocate to Silicon Valley for this purpose. This makes the Online Startup School the global "feeder" to the actual Y-Combinator and a free resource that enables all founders worldwide to benefit from the Accelerator's knowledge and experience and to qualify for the Y-Combinator.

Techstars and Plug and Play are growing globally by establishing offices around the world. In 2011, Techstars initiated the Global Accelerator Network (GAN) and hosts more than 40 different accelerator programs internationally. They support founders locally with Startup Weeks/Weekends.
Plug and Play has set its focus on corporate innovation with startups. They have more than 400 partner companies worldwide and cooperate with them in more than 60 accelerator programs - in Germany, for example, Startup Autobahn and Axel Springer Plug and Play.
New trends in the accelerator industry
It's not just Y-Combinator that's betting on a digital offering. The Covid19 pandemic has created a boom in online accelerators. The first in Germany was startupanywhere.io.
The industrialization of accelerators has also ensured increased digitization of processes, new methods are being tested, and the quality of mentoring has increased enormously. A new trend is the establishment of club models with companies. This gives the programs stable, long-term financiers.
Such closed models are also on the rise in the direction of startups: Startup studios, also called venture studios, gather top founders, coaches and VCs. These studios are a precursor to company builders.
What can we learn from the most successful accelerators?
As mentioned earlier, what the top accelerators have in common is that they are privately owned and operated. What do they do differently than startup funding programs run by corporations or public institutions?
We observe that the private, stand-alone accelerators approach startup development primarily in an entrepreneurial and correspondingly results-oriented manner:
They embody a strong brand, which brings them many startup applicants.
This allows them to select among the best of the best of the startups.
Their portfolio across multiple batches is correspondingly large, resulting in good risk diversification.
Because of their prominence, the programs can draw on top mentors such as serial entrepreneurs and industry experts, who in turn increase the quality of the funding program and its reach.
Follow-up funding for the successfully "accelerated" startups is usually secured by other VCs or, in some cases, even by a dedicated VC fund.
The entire process of recruitment, selection, onboarding, program implementation, fundraising support is digitalized throughout, making the Accelerator very efficient.
To turn an accelerator into a real startup booster and become a brand itself, time and money are needed - a look at the U.S. role models also shows this. From the first steps to the accelerator industry, the big players needed more than a decade.
In Germany, we have the chance to learn from the experiences of Y-Combinator & Co. and to drive the development of accelerators that are serious players in the global accelerator industry in a shorter time. For that, we need determined companies and doers who know what it takes.
Would you like to learn more about Corporate Accelerator and successful innovation management? Feel free to contact us, we will advise you on all your questions.
---