Professional article
Corporate accelerator opportunities and challenges - how to make your company's start-up program a success!
Companies such as Axel Springer, Deutsche Bahn and Merk rely on Corporate Accelerator for their innovation management. Their programs are among the best known in Germany. Despite these success stories, the number of corporate startup programs is declining. Why is that? And how can your company benefit from its own accelerator program to promote and develop internal and external startups?
The major corporate accelerators in Germany are called Axel Springer Plug & Play resp. APX from Axel Springer and Porsche, DB mindbox as well as Merck Accelerator. They all offer startups support through coaching, workshops, network access, capital, community and a place in the co-working space. The startups go through the support program in so-called batches during a fixed period of time. What's good for founders also enriches the host companies - if they go about it the right way.
Why do we need (corporate) accelerators?
Startup funding programs not only benefit startups, they also provide important services to companies, investors, and the respective regional or thematic ecosystem.
First, accelerators are critical to increasing the birth rate of startups. There are several reasons for this:
On the one hand, because they are a permanent advertisement for start-ups. In the accelerator environment, young talents feel encouraged to start a company in the first place.
The programs lower the barriers to starting a business that might otherwise exist. They assist with bureaucracy and provide the necessary knowledge in marketing, product development, market research, etc.
Due to their time flexibility, the programs are accessible to everyone - even in a permanent position, it is usually possible to take a part-time leave of absence for five months.
Accelerators also ensure a lower mortality rate for startups: they ensure early product-market fit, accelerate prototyping, and provide access to VCs and companies. They also create a local or thematic community that supports each other.
Conversely, more startups mean for companies that innovations are driven forward significantly faster or are developed in the first place. Established corporates benefit from contact with fresh talent and cooperation with startups, as they can usually act much faster and react more flexibly to the market.
These are the benefits of a corporate accelerator for companies:
Companies can involve the best startup minds in shaping their own innovation strategy.
The startups' innovation ideas, impulses and culture enrich their own corporate development.
Opportunities arise for collaborations with other market players for joint innovation activities around the funded startups.
There is an opportunity for early, low-cost participation in the most successful, best startups from the program - either as a strategic investment and/or as a return-oriented financial investment.
From the less successful startups, the best people can be recruited into the own company.
In addition to the benefits for individual companies, startups are important for the development of new markets as a whole because they continuously contribute new ideas and approaches to solutions. They help to commercialize scientific and technological innovations and thus create forward-looking applications. In this way, they increase the pressure to innovate on established companies and drive new product development.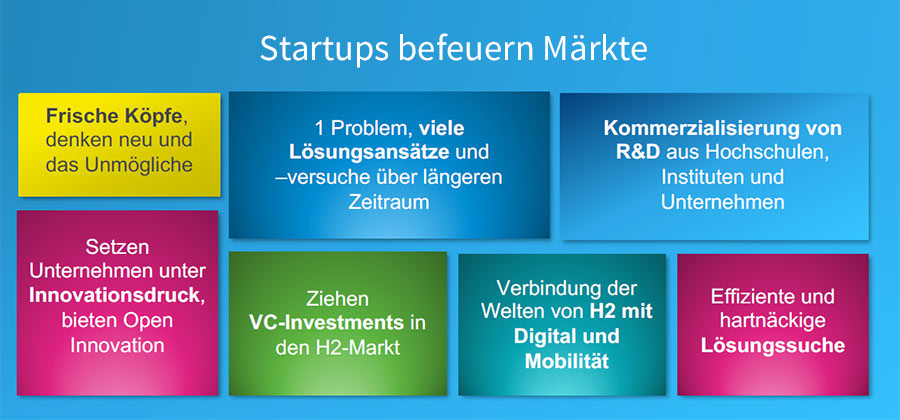 What makes a successful accelerator?
As analyzed in our article "The rise of the startup accelerator: how global players are building a worldwide accelerator industry" the most successful accelerators are characterized by their entrepreneurial and results-oriented approach to startup development.
They build a strong brand image that brings them many applicants and top mentors. As a result, their startup portfolio is large and well-supported, and as a consequence, the risk of failure is reduced. The programs of the major accelerators are optimized over years, tried and tested many times, mostly fully digitized and, above all, sustainable with the option for follow-up funding and further support for the best startups.
Corporate accelerators, on the other hand, often fail because they frequently rely on program managers and employees from their own company or network rather than cross-network real professionals as program managers, mentors and expert coaches. Their startup portfolio is usually very small and their staying power in supporting startups is very limited, so no payback can be generated for the effort of program execution.
And so the corporate accelerator programs are often discontinued after a short time because they do not achieve the hoped-for success.
Time, budget and professionalism are decisive factors for a successful corporate accelerator. The program should run for at least three to four years. With the appropriate budget, professional mentors and expert coaches can be purchased, peer-to-peer learning formats can be organized, and individual contact networks can be established for the startups, ensuring the quality and ultimately the success of the accelerator program.
The challenges of the Corporate Accelerator
In the market survey "Collaboration with Startups - How and For What?" 1stMOVER asked companies about their experiences with in-house accelerator programs. 130 strategy and innovation managers participated in the survey. More than 20 percent of them stated that their companies have already conducted their own startup acceleration or incubation programs, in which several startups were systematically searched for, selected and further developed.
The most relevant goals of the companies were the new development and improvement of their own products or services and the expansion of their own product or service portfolio with selected startups. Image enhancement was also an important motivator for setting up the funding program.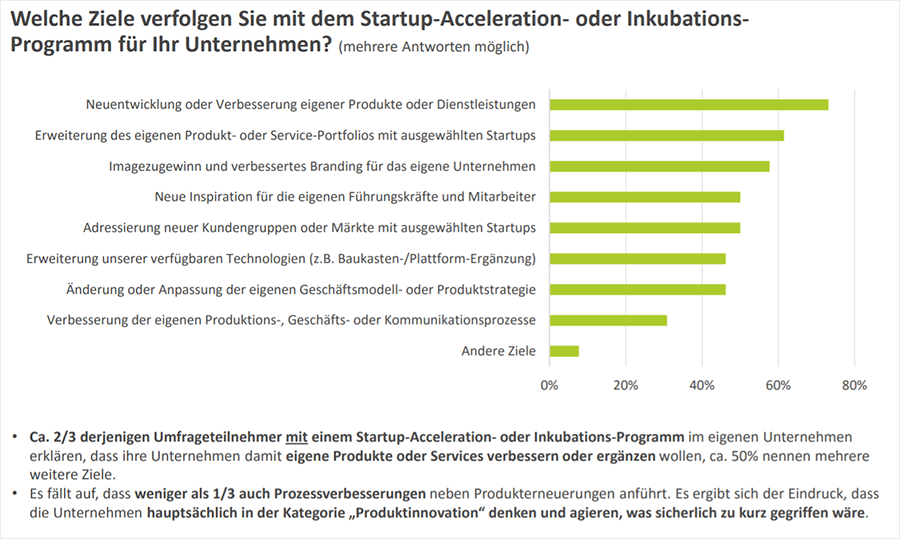 In the responses, it is noticeable that less than a third also cite process improvements as a goal alongside product innovations. This gives the impression that companies mainly think and act in terms of "product innovation" - a mistake that is also reflected in the evaluation of the challenges.
In the market survey, the main problems cited were the difficulty of integrating the program into basic innovation management and cultural conflicts in collaboration.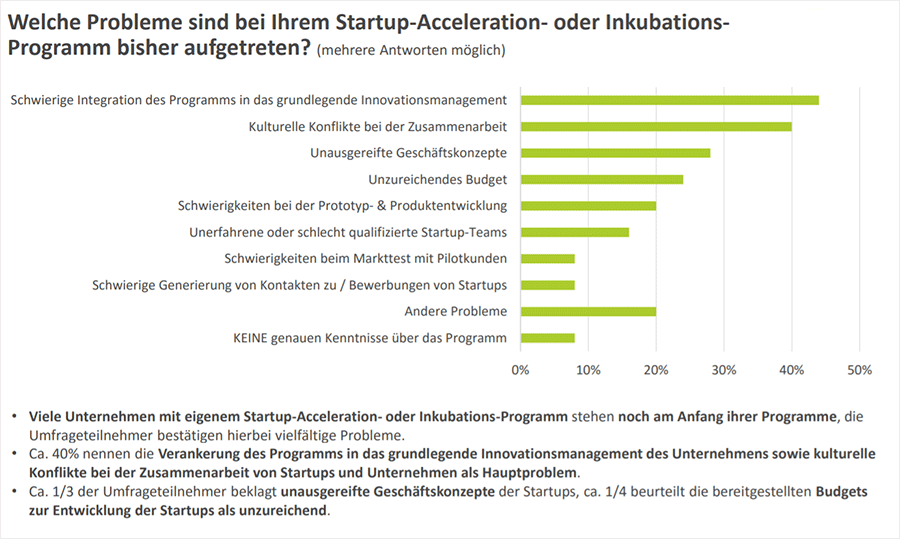 A central problem seems to be that the exact collaboration between companies and startups has not been sufficiently thought through. How should the participating startups of the accelerator be connected with the company? For this, the concrete possibilities for pilot projects and integration paths for new technologies and solution in different company areas must be defined.
The option of purchasing startup shares up to the takeover of the majority must be planned through and prepared. In the case of share purchases or complete takeovers, it must be clarified whether full integration into the core business is to take place or whether a new, independent business unit is to be created.
With regard to cultural conflicts, those responsible should be aware of the often strong contrast in mentality between established companies and startups. We advise companies to deal with the working methods of startups at an early stage and to create the appropriate framework conditions. The different ways of working can be seen as an opportunity to rethink one's own processes and make them more efficient.
Corporate Accelerator - the rejuvenating cure for your company
With a corporate accelerator, you bring crucial innovation potential for your company's growth. You establish contact with the most promising startups and talents in subject areas relevant to you and secure their advancement - and thus also your own. As a valued startup partner, you create an innovative image for yourself in the market and among your customers.
At 1stMOVER we have already built and supported several startup accelerators, first in 2015 for EON the :agile accelerator. With digihub, led by our managing directors Klemens Gaida and Peter Hornik, we have been running our own accelerator program "Ignition" since 2017 and have now funded more than 60 teams with more than €1.5 million from idea validation and rapid prototyping to market entry and initial VC funding. Furthermore, 1stMOVER has supported Vattenfall in the implementation of the greenfield program, in particular as a strategic advisor and coach for startups. In addition, 1stMOVER has supported the establishment of the H2UB - the first hydrogen hub in Europe, which will also operate an accelerator program.
After more than five years of different accelerator work, we are networked with the top mentors, expert coaches and investors from numerous industries. Through digihub, we are also an integral part of the startup scene in NRW and thus have a personal connection to the most promising founders "on our doorstep".
Together, we ensure that your corporate accelerator does not turn into a disappointing, quickly unwound, pure cost center, but into an independent, results-oriented profit center with a lot of drive and substance for the innovation management of your entire company. Holen Sie sich die Ideen der Zukunft in Ihr Unternehmen und profitieren Sie von der Agilität der Startups. We support you in building your own sustainably successful corporate accelerator.
Would you like to learn more about our services? Feel free to contact us, we will advise you on all your questions.
---